The importance of youth in the quest for peace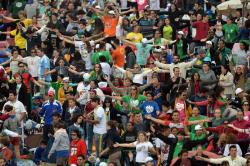 (Vatican Radio) Over a hundred thousand people joined Pope Francis for a prayer vigil in St. Peter's Square last night, as part of an international day of prayer and fasting for peace in Syria and the world. The young people of the Casa San Lorenzo youth association in Rome, founded by Blessed Pope John Paul II, were among the faithful in St. Peter's Square.

Giulia Cirillo spoke to the director of the centre, Katya Tootill, to find out why it is so important for young people to take part in the vigil:




"It is important because everything that is going on also has something to do with us, with youth, it's also our concern. This Pope's call for peace, to fast, to pray for peace, is important." She adds that the centre's contribution to the vigil is important because "youth are the future of the world, of the Church."

Giulia Cirillo also spoke to Louisa Ashton, who was among those present at the vigil in St Peter's Square:




"I think the young people today have a strong understanding of peace, they mostly have lived in peacetime. [...] So I think when you see young people praying together it really gives us hope for the future, especially as the new politicians who are coming through are younger men and women. It gives them a great understanding of what they're called to, what all people are called to, and that is to really love and pray for each other, and to protect humankind, and I think that's the responsibility which falls on the leaders of the world today."

When asked about her hopes for the international response to the vigil, Ms Ashton said she would like to see "that great understanding of stewardship, that the world leaders are actually called to protect the people of their country, the assets of their country, the land of their country, the beauty of their country, and to step away from that idea of power and money that can sometimes really overwhelm an individual."