Franciscans join Pope's call for prayers for peace in Syria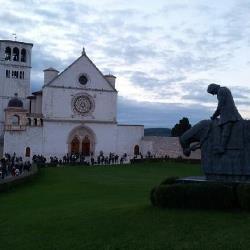 (Vatican Radio) Franciscan Friars in Assisi are joining Pope Francis' call to pray for peace in Syria.


To do so, the Lower Church of the Basilica of St. Francis in Assisi will exceptionally remain open from Tuesday to Friday until 10pm so that pilgrims and faithful can pray on the Tomb of St. Francis for peace in the Syrian nation, and for those who are called to make political decisions on the path to justice in the world.


And on Saturday September 7th, the day in which the Pope has on all men and women of goodwill to fast and to pray for peace, after their celebration of Vespers, the Assisi friars will gather at Santa Maria degli Angeli for a prayer vigil, called for by the Bishop of Assisi, Domenico Sorrentino, in communion with Pope Francis.