Archbishop Zenari: the international community must not remain silent before the cry of innocent victims in Syria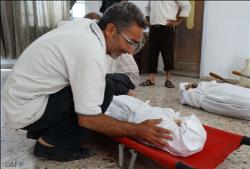 (Vatican Radio) Echoing Pope Francis' heartfelt appeal to the International Community to do everything in its power to help Syria find a solution to the ongoing conflict, Archbishop Mario Zenari, apostolic nuncio in Syria said the international community has the responsibility to respond to the crisis.

Speaking to Vatican Radio, Archbishop Zenari commented on the terrible attacks of the past days that caused the death of so many innocent people.

listen to Linda Bordoni's report...




Seeing those terrible images that have shocked us all, he says – "I heard the cry of the children, those innocent victims, a cry to heaven and cry to the international community: we cannot remain silent before this cry of theirs, of this appeal".

And Archbishop Zenari says that his prayer is that "those who have responsibility in this field - the international community, its leaders – be endowed with wisdom and with prudence". We must make sure – he continues "that crimes such as these do not ever happening again - never again! And he underlined his belief that the international community must do everything possible to prevent massacres like this and to find the most suitable and most appropriate means to not further complicate the situation.

Asked whether he has any information regarding the use of chemical weapons, Archbishop Zenari says this kind of thing is not part of his field of expertise, and he stresses that it is the responsibility to verify and establish the truth. He also expresses his hope for collaboration on the part of local authorities and all the parties involved in conflict, so that an investigation may be set up.

Archbishop Zenari points out that since the beginning of this conflict, two and a half years ago, the innocent population has being paying the highest price. About a year ago – he says – "when the sounds of war made themselves felt here in Damascus, I had the impression that Syria was starting its descent into hell. Today, after the latest facts, we are wondering whether we have reached the bottom of this abyss".