Berlusconi sentence: What impact upon Italy and Europe?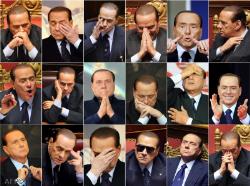 (Vatican Radio) Italian politics have been thrown into turmoil by a Supreme Court ruling upholding a prison sentence for tax fraud for former Prime Minister Silvio Berlusconi. The media tycoon's PDL party is a key member of Italy's current coalition government. So, what's the impact of this sentence and does it mean an end to Berlusconi's long and turbulent political career? To find out more, Susy Hodges spoke to James Walston, Professor of International Relations at the American University of Rome.

Listen to the full interview with Professor Walston:




Walston believes the upheld conviction for Berlusconi will accentuate the divisions in Italy's shaky coalition government, both within his own PDL party "between the hawks and the doves" and within the PD, the other party making up the ruling coalition.

He also predicts that the impact of this development stretches well beyond the nation's borders. "The stability of Italy's government is of great concern within the Eurozone," he says, especially in Germany and France.

Asked whether he believes the upholding of Berlusconi's conviction for tax fraud means an end to Berlusconi's political career, Walston describes the former premier as one of the great survivors in Italian politics who "can't be written off" just yet. He says even under house arrest, Berlusconi could continue in politics and although "not very likely", the PDL leader conceivably could still occupy an elected office in the future such as becoming prime minister again.