WYD: catechesis is the secret of a successful event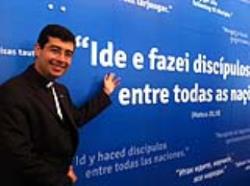 (Vatican Radio) On Tuesday evening, the Archbishop of Rio de Janeiro, Orani Joao Tempesta, is presiding at the official opening Mass for the XXVIII World Youth Day. Brazilian Father Leandro Lenin is in charge of organising the programme of catechesis for the hundreds of thousands of young pilgrims who've enrolled for the event - and many more who are expected to arrive over the coming days. The head of the English Programme, Sean-Patrick Lovett, who's following this papal visit, caught up with Fr Leandro to find out more about this crucial part of the six day event and about special provisions for disabled participants…..

Listen:





"We've prepared 24 places of catechesis for English speaking pilgrims....we try to make everybody go deeper in the theme 'Go and make disciples among all nations'. So what we try to do in 3 mornings is to explain how to be a real disciple, or a real missioner for Jesus Christ......we don't want only pilgrims that just go to the big venues, but we want pilgrims that are aware of their mission and responsibility after World Youth Day....they'll be sent by Pope Francis back to their countries to make new disciples and catechesis is the secret....

We have one place for people who asked us - with wheelchairs especially....we expect 160 people, with the volunteers who help them to move...we have a place in the north of the citywhere we'll have simultaneous translation in five languages for them...."