Brazil strikes continue to cripple the nation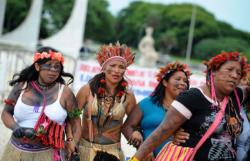 In Brazil, tens of thousands of workers have walked off their jobs in a nationwide strike demanding better working conditions and improved public services.

Organized by Brazil's biggest trade union federations, strikers are partially or completely blocking 17 highways in seven states.

And as James Blears reports, two indigenous villages in the Amazon region are laying it on the line to a mining company and the Brazilian Government.

listen to regional correspondent James Blears' report...



Villagers from two settlements in the Maranhao region dominated by the mighty Amazon rain forest, have twice stopped the rail service of the Vale mining company in the last seven days, by placing burning brush and logs on the line.
They're demanding the second largest mining company in the World, which owns the largest iron ore mine in the World, intercede on their behalf with the Brazilian Government. Their list of demands include: A better standard of living, more education, comprehensive law and order and at the self same time....respect for the jungle and their way of life.
So far the company has taken no action against the indigenous protesters, who've shown by their actions, just how vunerable lines of communication and transportation are to the mine situated close to the town of Carajas.