Pope celebrates Mass for islanders, migrants on Lampedusa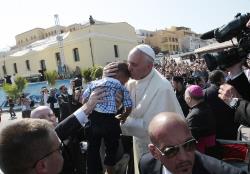 (Vatican Radio) Pope Francis was greeted by thousands of cheering residents and visitors of the southern Italian island Lampedusa Monday. The Pope arrived at the Arena sporting field in an open car, saluting the crowds who turned out for the celebration of mass. Before changing into his vestments for the liturgy, the Pope admired the altar fashioned out of a colorful fishing boat and prayed before a statue of the Virgin Mary.
The Pope desired to pay this half day visit to Lampedusa as a sign of solidarity with the island's 6,000 inhabitants and the tens of thousands of migrants from North Africa who have attempted to land on its shores. Some 20,000 have perished at sea.