Cardinal Tagle: The word "charity" has been co-opted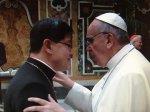 (Vatican Radio) In the third part of a special 5-part Youtube series featuring a conversation with Cardinal Luis Antonio Tagle, the Archbishop of Manila speaks about charity.

"That word 'charity' – a beautiful word – has been co-opted by so many groups and so many institutions," Cardinal Tagle said. "I just hope they are trying to be true to the word charity."

He explained to Vatican Radio what Christian love is.

"Love is the capacity to give of myself to others, without counting the cost, without out measuring what I will get in return, without expecting even recognition or thanksgiving," said Cardinal Tagle. "It is the purity of the heart that follows its basic inspiration: to be human is to be able to make myself available for others."

Stay tuned for part 4 of the series later this week.