British ambassador to Holy See on G8's '3T' agenda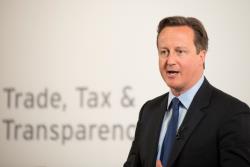 (Vatican Radio) As world leaders open their G8 summit in Northern Ireland on Monday, British Prime Minister David Cameron is pledging to restore "strong and sustainable growth to the world economy" through progress on what's being called the '3 Ts' – taxation, trade and transparency.
Cameron's words come in a letter sent to Pope Francis ahead of the summit, in which the British government leader sets out some very practical goals on tackling tax evasion, promoting free trade and pushing transparency in business. In a reply to the Prime Minister, made public at the weekend, Pope Francis offers "abundant blessings" for summit participants and stresses the importance of keeping human beings "at the centre of all political and economic activity". The Pope also expresses his keen hope that the summit can help bring a lasting solution to the war in Syria – another issue that is likely to dominate the two day meeting.
To find out more about the summit agenda and about the exchange of letters between the Pope and the Prime Minister, Philippa Hitchen spoke with Britain's ambassador to the Holy See, Nigel Baker…..

Listen:




"There have been exchanges between popes and heads of government before....at G8 and G20 level....the Pope is one of the few world leaders to be addressing issues on a universal and global basis and the focus of the British G8 presidency is about rebalancing the global economy, putting in measures in areas of good governance, transparency, taxation, free trade and othes, that will impact on just the G8 countries in Africa, Latin America - that's the role of the G8 presidency as far as we're concerned.....