Pope Francis recieves president of Uruguay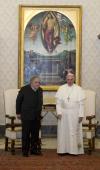 (Vatican Radio) On the morning of Saturday, June 1, the Pope Francis received in audience Mr José Alberto Mujica Cordano, President of the Oriental Republic of Uruguay. The president subsequently met with Cardinal Tarcisio Bertone, the Secretary of State, accompanied by Archbishop Dominique Mamberti, Secretary for Relations with States.

The cordial discussions provided an opportunity for an exchange of information and reflections on the socio-political situation of the country and its role in the region. In this perspective issues of common interest were discussed, including the integral development of the person, and respect for human rights, justice, and social peace. The discussions also touched upon the contributions made by the Catholic Church in the public debate on these issues, and its contributions to international peace, as well as its service to the whole society, especially in the areas education and charity.