Bishop of Aleppo: Concern over fate of two Syrian archbishops kidnapped one month ago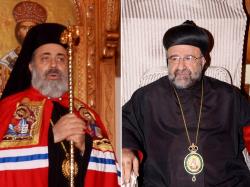 (Vatican Radio) It's exactly one month since two Syrian Orthodox archbishops were kidnapped near the city of Aleppo. The Greek Orthodox archbishop of Aleppo Yohanna Ibrahim and his Syriac Orthodox counterpart Boulos Yazaji were seized by gunmen while travelling back from the Turkish border. No group has claimed responsibility for their abduction. The Catholic Chaldean bishop of Aleppo, Antoine Audo spoke to Susy Hodges about their growing concern over the fate of the two prelates.

Listen to the extended interview with Bishop Antoine Audo:




Bishop Audo describes how he and other Catholic churchmen attended an ecumenical prayer service last weekend in Aleppo's Greek Orthodox Cathedral to pray for the safe release of the two kidnapped prelates. He said it was a "sad" occasion …with "some people crying" or with "tears in their eyes." Bishop Audo says the Christian community in Syria is highly concerned and baffled as to why the two archbishops were kidnapped but doesn't believe it was because their captors are seeking a ransom for their release. "It's not a question of money" , he says, as no demand has been put forward for a ransom.