Shaping a new frontier for Catholic communicators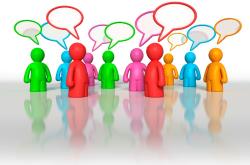 (Vatican Radio) Calling on all creative Catholics with ideas to share to promote the Church's message for World Communications Day, focusing this year on the theme of social networks as the 'new space for evangelization'. This year the annual Communications Day is being celebrated on Sunday May 12th and ahead of that date the Vatican's Council which helps draw up the pope's message is urging all dioceses and bishops conferences in countries around the globe to share any inspiring ideas and materials via a specially dedicated section of the Council's website.
Last year, the Latin American Church in particular responded with a wealth of written and audio-visual aids to help share the papal message way beyond the confines of the Catholic world. This year members of the Council are hoping for a similar input from others countries as well, as they put it, to help shape "a new frontier of communion among Catholic communicators."
Fr Ariel Beramendi from Bolivia works at the Pontifical Council for Social Communications and is the brains behind this multi-lingual project – he told Philippa Hitchen more about the initiative and about the way the first Latin American pope is himself shaping a new way of communicating with the world…

Listen:




"The experience is very interesting because people from all over the world send us their material and we found, for example last year some rap music - talking about silence, because last year's message was about silence - and some videos, some interviews and reflections, some prayers...it's very interesting to discover the creativity of Catholic communicators in other continents...

I would say there are two different ways of communicating with the two popes...Francis is Latin American and he's just being what a Latin American is, stretching out his hand, or kissing a baby or hugging a friend, that's what a Latin America does, it's the way we are. So communication becomes part of our way of being and this encourages us to communicate, not just with technical means, but the Pope now encourages us to communicate with our lives, our attitudes and our personalities..."