Cardinal Ravasi: Pastors share lives of faithful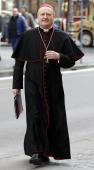 (Vatican Radio) Pope Benedict XVI continued his Lenten spiritual exercises on Friday in the Redemptoris mater chapel of the Apostolic Palace at the Vatican. The retreat leader, President of the Pontifical Council for Culture Cardinal Gianfranco Ravasi, focused his first morning meditation on Psalms 16 and 73, with particular attention to the Psalms' insights into the priestly character and vocation. "The priest," he said, "is a fragile person with his sins and miseries," like others, he is, "in need of the forgiveness of God and conversion." Nevertheless, "God's loving embrace saves us from mortality and leads us to blessed immortality," and God's priests are his special instruments, by which saving grace is conveyed. Cardinal Ravasi went on to say, "Authentic and joyful belief in God brings freedom, gratuity, purity and spirituality," which, he said, "[are] the only real rewards." Listen:




The second meditation of the morning session focused on Psalms 71 and 128, and the wisdom they convey regarding especially the person, the family and the elderly. Cardinal Ravasi said, "The believing family should not close in on itself its joys and problems, but go out to the city, contributing to the good of the community." He also spoke of the need for the ordained leaders of the Church to understand and be concerned for the concerns of the faithful with whose care they are charged. "Pastors must share the lives of their flocks joyfully and lovingly," he said.