Cardinal Wuerl: Pope's decision understandable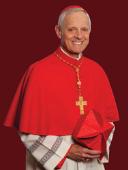 (Vatican Radio) Cardinal Donald Wuerl, Archbishop of Washington DC, says Pope Benedict's decision to step down is "understandable" given the far greater demands of a modern papacy. He spoke to Vatican Radio's Susy Hodges.

Listen to the extended interview with Cardinal Donald Wuerl:




Cardinal Wuerl says the present-day papacy is far more onerous than in the past with many additional demands. These new demands, he added, are "the requirement to travel" and the instant character of today's communications, such as social media etc. Cardinal Wuerl says the Holy Father recognises these changes and "is saying, wouldn't it be good to have someone with fresh energy to address this ….. as "he (the Pope) doesn't have the energy any longer to do this."

Like many other Churchmen, Cardinal Wuerl pays tribute to the courage and humility of the Pope's decision saying "it takes enormous humility to say I can't do this anymore." Asked what for him have been the highlights of Pope Benedict's ministry, the Cardinal singles out the papal visit to the U.S. in 2005, especially his homily at the mass in Washington DC and the Pope's Synod on the New Evangelisation held last year.

When questioned as to whether Pope Benedict's decision to step down could set a precedent for future popes, and make resignations more likely Cardinal Wuerl concedes that this could well be the case as "there's no reason why someone (a pope) in the future would necessarily hesitate (before deciding to step down) on the grounds there's no precedent."