East Europe's bitter cold kills 300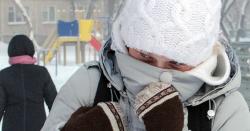 (Vatican Radio)-- At least some 300 people have died in biting cold weather crippling much of Eastern Europe and the Balkans. Most people have died in Russia, neighboring Ukraine and Poland. Regional correspondent Stefan Bos reports:




As a White Christmas has turned deadly for many, rescue workers rush to save at least some lives in the former Soviet Union and nearby nations.


That's difficult in Russia which is in the icy grip of its coldest December on record. Over 120 people are believed to have died there within the last two days.


In Siberia, to the east, temperatures have plummeted to almost minus 60 Celsius. In the Tyva region thousands evacuated to schopols and hospitals as heating pipes have burst. Resident Irina Bryarkina is desperate.


NO WATER

"We've got nothing here. We don't even have water," Bryarkina said. "It's good there has been lots of snow so we gather that snow in our garden and melt it. Do you understand we are freezing here? We have subzero temperatures in our flats," the woman added.


And she can prove it. "I measured the temperature in my room where I have small heaters, it is minus 2 Celsius there. In the kitchen where I have a stove burning, it is minus -5 Celsius."

Many homes in the region are badly isolated, following decades of neglect under Communism when energy was cheap.


That's also the case in in neighboring Ukraine and Poland, where over 100 people died, though many of them homeless.


'SNOW WHITE'

Scores of deaths have also been reported in other Eastern European nations and the Balkans, with villages cut off from the outside world.


Yet, amid the misery there are miracles.

Serbian television showed how a man fell while trying to clean the snow from his roof.


He survived, with a laud laugh and apparently unharmed.


Elsewhere in snow stricken Serbia a woman who couldn't reach a hospital managed to give birth in a truck. She called her daughter Snežana, the Serbian word for 'Snow White'.