Two priests dismissed in Wuhan, China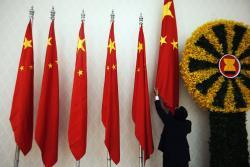 December 22, 2012: The provincial government in Hubei, China, has replaced two priests from Wuhan diocese with a government-selected management committee amid an escalating standoff between authorities and the Church in the province.

During a confrontational meeting on December 13, 15 priests and several nuns were escorted to the office of the provincial Religious Affairs Bureau where officials announced a reshuffle of leading clergy positions, said sources who declined to be identified.

Father Joseph Shen Guo'an, who was temporarily in charge of Wuhan diocese and who has defied authorities in recent weeks, and another priest were dismissed from the government-sanctioned Catholic Patriotic Association. The Board of Diocesan Consultors was also disbanded, sources said.

The two priests were replaced by a five-member management committee led by Father Francis Cui Qingqi, who is said to be close to the government. "No priests and nuns except Fr Cui were allowed to speak at the meeting," said a church source using the pseudonym David. Last Thursday's reshuffle by the authorities effectively overrules church leaders in Wuhan who want to decide on the allocation of priests to parishes themselves.

On November 29, 19 out of 23 priests in Wuhan held a meeting and drew up their own list of assignments and transfers between parishes. Some of the attending priests later received warnings from government officials stating the meeting itself was illegal, according to church sources. The following day, Fr Shen defied the warning by announcing the transfers during Mass, to applause from the congregation.

Authorities again tried to block the decision, sources said, by summoning priests to meetings individually in which they were told not to leave their parishes and head to their new appointments. Father Francis Wu Zhengfu, who proceeded to Boquan church on December 9, was locked in a room by officials to prevent him from meeting his new parishioners, church sources said, who added that he was insulted and threatened.

"Father Wu had no choice but to return to [his previous posting at] the cathedral while his predecessor, Father Joseph Huang Xuefeng, was not allowed to leave his parish," said David.

Events over the past few weeks represent the latest example of interference by authorities in Wuhan. After the former bishop died in 2007, authorities tried and failed to install their preferred candidate in 2011.

The Church's candidate at the time, Fr Shen, was informed without reason that his ordination was canceled and has since fallen out of favor with authorities.