First woman President for South Korea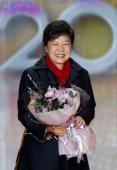 (Vatican Radio) Voters picked Park Gyeun-hye, daughter of the military ruler who led South Korea during its economic transformation following the Korean war.
In campaign rallies like this one, Park promised economic growth,
citing Britain's Margaret Thatcher and Germany's Angela Merkel as role models.

But in a heavily male-dominated society, Park also drew on maternal images to describe how South Korea might be under its first female president

There were long lines of voters outside some polling stations:
The election saw an unusually high turnout, greater than 75 percent.

That reflected the polarising effect of the two candidates:
conservative Park was derided by the left-wing as too establishmentarian, and her liberal challenger, who pledged to shake up government and industry, was seen as a dangerous choice by many conservatives.

The new president will have to face not just faltering economic growth but also widening income disparity and the ever-present threat of North Korea.

Park has said she will talk to North Korea but wants it to give up its nuclear programme as a precondition for aid. Listen to this report by Alastair Wanklyn.