Venezuela: Chavez indicates successor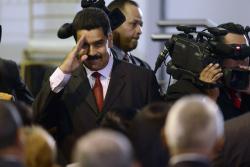 (Vatican Radio) President Hugo Chavez has announced he'll have to undergo more cancer surgery and who'd replace him as successor if he's unable to continue. James Blears reports, Listen:
President Chavez says further tests in Cuba have found more cancer in the same pelvic area and it's imperative he has surgery. He's said pain is a factor and there are obvious risks involved. This will be the third round of surgery in a year.
For the first time President Chavez who was re-elected in October, has clarified the postion about a sucessor. Former Foreign Minister Nicolas Maduro who's now Deputy President is named as his chosen successor.
President Chavez only returned from Cuba on Friday. It was said that he was recieving physical therapy and enriched oxygen, but detailed cancer tests detected another tumor.
President Chavez Bolivian style socialist revolution, which has been shunned by the middle class, has found support among the poor, who've been helped with an array of programs. Brash, controversial and unashamedly unapologetic concerning his approach to politics and governing, no one can doubt the determination and courage with which he's faced down this undisclosed form of cancer. He now faces another tough and uncertain battle, bolstered by his fighting spirit.