Ecumenism at the heart of New Evangelisation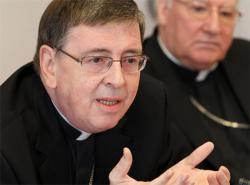 (Vatican Radio) 'Christian Unity: illusion or promise? Ecumenical aspects of the Year of Faith' That was the title of a lecture given at the Lateran University on Monday by Swiss theologian Cardinal Kurt Koch, president of the Pontifical Council for Promoting Christian Unity. Philippa Hitchen takes a closer look:

Listen:




In his reflections, Cardinal Koch stressed the importance of maintaining the goal of full, visible unity of the Churches as the only way of providing a credible witness of Christian faith in today's increasingly secular societies.
Returning to the theme discussed at the recent plenary assembly of the Council, he underlined the importance of ecumenism at the heart of all new evangelisation. Modern secularist thought and the privatisation of religion, he noted, are in part a consequence of the tragic divisions and bitter conflicts between the Churches in the 16th and 17th centuries. Since the first World Missionary Conference, held in Edinburgh in 1910, he said, it has become increasingly clear that authentic witness to the Gospel of Christ will only become possible again when the Churches manage to heal those divisions and walk together as one.
Cardinal Koch also stressed the essential role of prayer in the search for Christian unity: just as Jesus prayed at the Last Supper that his disciples "be one so that the world may believe", in the same way, all Christians today must increase both prayer and practical action to reconcile and restore the unity of the one Body of Christ.