Questions of Faith: The confessional seal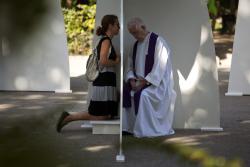 (Vatican Radio) Part four in the Questions of Faith series sees Monsignor John Kennedy, an official at the Congregation for the Doctrine of the Faith, answering a difficult question from Asia about the Confessional Seal: is it morally punishable for a priest not to report a crime concerning murder that was confessed during the Sacrament of Reconciliation?

Tune in to find out more about one of the most misunderstood Sacraments in the Catholic Church; why a priest can never reveal what he hears during the Sacrament of Reconciliation, even if he risks prison; why the Church holds the breaking of this Seal punishable by excommunication; and why many priests still have a special love for Confession. Listen:




A reminder that if you have an Questions of Faith, big or small, you can ask the official by posting them or private messaging them to the Vatican Radio – English Section Facebook page and tune in each Tuesday to find out the answers to your questions.