People mired in poverty due to a lack of voice and power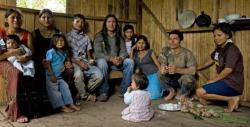 (Vatican Radio) Ending poverty means listening to poor people. That's the message which members of the British development charity Progressio gave to members of the High Level Panel set up by the UN to discuss new long-term goals for reducing global poverty. Progessio passed on that proposal after receiving feedback from their partners around the world about what the poorest people want and need from the new set of poverty reduction goals that will replace the existing Millennium Development Goals, due to expire in 2015. Progressio's Head of Policy Tim Aldred attended a meeting with the Panel members and spoke afterwards to Vatican Radio's Susy Hodges:

Listen to the extended interview with Tim Aldred:




Aldred says the Panel members were very receptive to their prosposals and also to another one coming from the poorest communities who want a much closer linkage between the issues of "poverty reduction and environmental sustainability."

He says giving a voice to the poorest communities is not just morally right but also makes the poverty reduction strategies more effective: "helping people to have a voice, it's not just the right thing to do to talk to poor people, it actually helps you to tackle poverty better, it actually helps to make a long term difference."

Asked why so many people around the world remain mired in poverty, Aldred says "a key issue is a lack of voice and power ... if you're not seen as electorally important to a government then they are not necessarily going to be committed to improving your lot." "That's why it's so important to increase the level of democratic accountability and participation in government."