'Light is on' in Lancaster diocese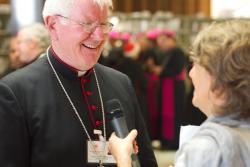 (Vatican Radio) Augustinian Bishop Michael Campbell heads the diocese of Lancaster in the north of England and he's one of three English Church leaders taking part in the Synod of Bishops on new evangelisation. Once the historic heartland of Catholicism in England, the diocese of Lancaster includes some remote and beautiful Cumbrian countryside, as well as post-industrial towns and cities with some of the highest levels of poverty in the country.
Despite the challenges he faces, Bishop Campbell says recent initiatives such as 'The Light is On for you' project to bring people back to the Church has been extremely well received. During a break in the Synod schedule, he took a few minutes to talk to Vatican Radio's Philippa Hitchen about this initiative and about his hopes for the outcome of the three week encounter…..

Listen:




I would hope the Synod won't be problem or issues-driven....as I go around my diocese, I see the goodness of the lives of so many people....so I'd like a word of comfort and reassurance for them from the Synod....

We are addressing (secularism) taking our lead from the Holy Father especially in this Year of Faith. In the diocese of Lancaster our means are modest but we have anticiapated the Year of Faith...during last Lent we offered the opportunity of Reconciliation, Confession each Wednesday night in their parish church from 7 to 8....and the feedback has been really very approving..."