Silence, humility, simplicity: the Filippino experience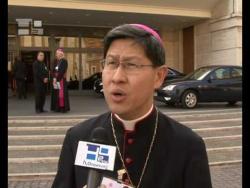 (Vatican Radio) On Tuesday, the second working day of the Synod on New Evangelisation, Philippa Hitchen listened to bishops from all the continents sharing their ideas on how the Church can and should respond to the challenges of the modern world. She shares some impressions and tries to make sense of the morning's many presentations.....

Listen:




Sitting in the packed and rather stuffy synod hall on Tuesday, I listened to 30 speeches in 5 languages from Church leaders in all corners of the globe. A truly daunting task for both the listener, and the bishops, as they try to make a lasting impression in the 5 minutes that tick relentlessly away on large screens set up behind the papal podium. Inevitably the best speakers are those that have fewer, clearer ideas and stop talking well before the warning bells that announces their mike is about to be switched off.

So what struck me most about this morning's rapid succession of speeches on the Incarnation and immigration, globalisation and the gift of the Spirit, the power of prayer and the need for penance?

Three words: Silence. Humility. Simplicity.

The value of silence was part of a powerful presentation by the young, yet authoritative and engaging Archbishop of Manila, Luis Antonio Tagle, who was already making waves at the last synod I covered on the Word of God back in 2008.

To be an effective evangeliser, he said, the Church cannot and must not pretend to have easy answers to the dilemmas facing men and women today. Instead, it must be an attentive and listening Church – only that way will people believe that God listens to them too.

Secondly, he said, the Church must be a humble Church, modelling herself more on Jesus and being less preoccupied by her power, prestige and position in society.

Another Filippino bishop, Socrates Villegas, echoed that striking call for a new humility of heart and simplicity of life. The Gospel, he said, cannot thrive in pride and our evangelisation has been harmed by the arrogance of its messengers. Just in case anyone hadn't been listening attentively, he reiterated we, the hierarchy, must shun arrogance, hypocrisy, bigotry, punishing the errant instead of covering up our own mistakes.

Silence, humility, simplicity. Nothing new about those ideas, but it was the way these two men seemed to echo the real life expectations of people in the Philippines today. The Gospel, it's often said, can't be preached to people with empty stomachs. Not so, the experience of the Philippines has shown: the Gospel can be preached to empty stomachs, but only if the stomach of the preacher is as empty as his parishioners.

Plenty of food for thought there, as the bishops headed home for their lunches and siestas, ahead of the afternoon session.