Appointments: Scicluna named Malta auxiliary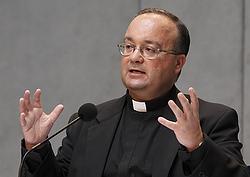 (Vatican Radio) Pope Benedict XVI has appointed Monsignor Charles J. Scicluna as Auxiliary Bishop of Malta nominating him Titular Bishop of San Leone. As Auxiliary Bishop, Monsignor Scicluna, 53, will collaborate with Archbishop Paul Cremona O.P.. His Episcopal ordination will take place on 24 November 2012.
Canadian-born Monsignor Scicluna graduated with a doctorate in Law from the University of Malta in 1984. Ordained to the priesthood in 1986 he went on to study Canon Law at the Pontifical Gregorian University, Rome. Subsequently he served the Church in Malta on the Metropolitan Tribunal and in a number of parishes, including his home parish of Lija.
A renowned expert in Canon Law, for the last 17 years he has worked in the Congregation for the Doctrine of the Faith. In October 2002, Monsignor Scicluna was nominated Promoter of Justice at the Congregation detailed to investigate and prosecute the more grave crimes reserved to the exclusive competence of the Congregation.
He has also lectured widely on issues concerning child protection in the Church, visiting a number of local churches in Europe, Asia, Africa, the Americas, and Australia. Mgr Scicluna is a Visiting Lecturer in Penal Processes at the Pontifical Gregorian University (Rome) and helps with chaplaincy work at the Convent of the Nuns of Saint Bridget, Piazza Farnese and at the Venerable English College in Rome.