Vatican: Interview with Rene Bruelhart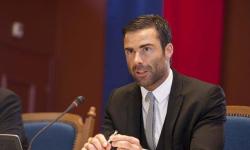 (Vatican Radio) – Two weeks into his new job as a financial consultant to the Vatican, 40-year-old Swiss lawyer, Rene Bruelhart speaks to Vatican Radio about the task that lies ahead.

Appointed to advise Vatican City State on "all matters related to anti-money laundering and countering the financing of terrorism", formerly Bruelhart was the director of Liechtenstein's Financial Intelligence Unit (FIU).

Bruelhart was hired as part of the Vatican's "clear commitment" to respond to recommendations of a report by Moneyval, a department of the Council of Europe, which was made public on July 18. Emer McCarthy reports Listen:





Q. - You have been at the Vatican since the beginning of September. Could you briefly explain what your job here at the Vatican is?

A. - Zeil und Zweck meiner Aufgabe ist, den Vatikan in seinen Bemühungen ...
My task is to provide advice and support to the Vatican in its efforts to combat money laundering, organized crime and the financing of terrorism. I started this job less than two weeks ago and so much depends on how the situation evolves. I found structures that, within certain limits, work very well. The Vatican's efforts, especially in the last two years, have been intense and its commitments wideranging. Given the mid-June report from the European Commission of Examination which carefully evaluated the Vatican's situation, it must be recognized that this is a work in progress and that we will continue on this path.

Q. – How different is your work here in the Vatican, to your experience in other countries? Is there any difference at all?

R. - Ich denke es gibt verschiedene Unterschiede. ...
I think there are many differences. It is a State like others, even though there may be differences in its structures. But I think the main difference in the Vatican's case, is the fact that when you work for another country, or a financial market, ultimately you are working for its reputation. In our case, it is certainly an important reputation, but what counts most is the "greater good." In fact, if we consider the function and the position of the Holy See at a global level - its importance and the question of moral responsibility that is at issue here - I believe that our task goes a lot further.

Q. - How is the Vatican perceived in the international financial world?

A. - Der Vatikan ist kein Finanzcenter: Ich glaube, das muss man hier mal ...
The Vatican is not a financial center: I think we have to state this quite clearly, once and for all. Even though some media claim otherwise, along with all the "myths" that are passed off as true: this is, to an extent, the nature of the media... I prefer to speak with the facts, and it is a fact that the Vatican is not a financial center. What is a fact, however, is that financial transactions are carried out here in the Vatican, albeit in quite a clear context. And it is also a fact that in recent years structures have been created to combat abuse. Now we have to strengthen these structures.

Q. – Regarding the norms: there are laws which must be adopted? Perhaps this is not very well known ...

A. - Es gibt and International Standards, global angewendet werden die, die klar ...
There are the globally adopted International Standards, which clearly outline the necessary structures and requirements, how international and national cooperation between the various authorities must take place ... In this context, there are basic conditions. What is crucial is that these do not simply become a formal act, but a active reality. In other words: it is important to find a way to make them work, especially in the long term. Without doubt, this will be one of the aspects of my job.