Lebanon: Patriarch Rai calls for Christian Spring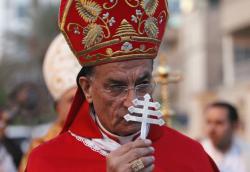 (Vatican Radio) - "The language of hatred and violence, both regionally and internationally, will never bring about a new Spring, only the opposite" says Lebanese Maronite Patriarch Beshara Boutros al-Rai.

On the eve of Pope Benedict XVI's arrival in Lebanon on a widely anticipated three day Apostolic Voyage, the leader of the largest Christian denomination in the Land of the Cedars spoke to Vatican Radio's Tracey McClure about the focal point of this Papal trip: The Churches of the Middle East and how they can and must contribute to a future of peace in the region. Listen:




"I think the Apostolic Exhortation is a gift of Divine providence in this difficult moment. It will present a series of challenges confronting the Christians of the region and propose some solutions and a way to proceed".


Patriarch Rai says that the Muslim community is also "very enthusiastic about the Pope's visit: "The Pope will help bring the dawn of peace to the region. But the real Arab Spring will arrive as the fruit of a Christian Spring and we can help to achieve this through communion and witness to love".

"This is a region torn by conflict and war and this exhortation will present a new way of presenting positive solutions to the conflict and political tensions. It is important that the Church speaks a language of peace, dialogue and understanding, because the Arab world only hears the language of hatred and violence both regionally and internationally, unfortunately. Violence and war will never bring about a new Spring. Only the opposite".