US diplomat killed in Libya consulate attack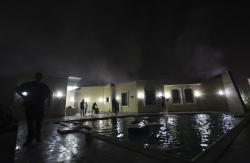 (Vatican Radio) An American staff member of the US consulate in the eastern Libyan city of Benghazi has died following fierce clashes at the compound. An angry mob set fire to the building to during a protest against a film they say offends Islam. The U.S. State Department said that the government is working with Libyans to secure the compound. Demonstrations against the film were also held outside the U.S. embassy in Egypt's capital, Cairo. Protesters in both countries say the U.S.-made film is offensive to the founder of Islam, Muhammad. Listen to the report by regional correspondent Nathan Morley:




Around 2,000 demonstrators gathered outside the embassy in the Egyptian capital, including football fans who were involved in the political protests that brought down the former government. A group of protesters breached the wall, pulled down the U.S. flag and replaced it with an Islamic banner.

Demonstrations continued into the evening.

An official at the embassy said that no guns were drawn and no shots were fired during the incident. He said all the employees on the compound were safe. It is not clear if the two incidents were coordinated, but the protests coincide with the 11th anniversary of the September 11 terrorist attacks in the United States.