Archbishop of Jos: foreign intervention to stop violence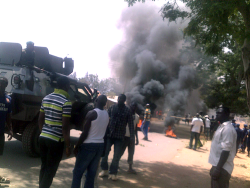 (Vatican Radio) The Catholic Archbishop of Jos, Ignatius Kaigama spoke to Vatican Radio's Linda Bordoni and expressed his deep, deep sadness for the fact that "lives are being taken very casually. This doesn't seem to stop. it seems to increase. It is not only the ordinary villagers who are being killed, but also some senior government officials. It is so bad,and it is our prayer that something definitive will be done to stop the situation that is inhuman".

Dozens of people have been reported killed this weekend in the Nigerian Plateau State where ongoing violence has seen repeated attacks, mainly against the Christian community.
Two Nigerian politicians died on Saturday during an attack on a funeral for victims of communal violence that led to at least 37 deaths.
The military said the funeral assault and Saturday's attacks on Christian villages near Jos in Plateau state were probably carried out by the same men.
Muslim herdsmen from the Fulani ethnic group were blamed for the violence, but they denied any wrongdoing.
The military had said a total of 37 people were killed on Saturday, including two policemen, about 21 of the attackers and 14 Christian villagers.
But other sources put the death toll much higher and reported piles of burnt bodies being discovered.

Archbishop Kaigama, who is currently in Rome where he was awarded a prize for peacebuilding, says he has been speaking to his priests in Jos who feel sad and helpless. He says "there was a time when our words were very therapeutic in the sense they provided soccour for the people, and comfort. But when people are attacked repeatedly they despair". And now - he says they are desparate and frustrated.

The Archbishop says he spoke to Plateau State Governer, whom he says, is devcstated. "He told me he believes that the attackers were people hired from outside to come and cause this havock. He believes they were hired and armed. He does not believe that the attackers were local Fulanese from the area".

Archbishop Kaigama says he has received many expressions of solidarity and he on the request of the Federal House of Representatives he will be celebrating Mass in Rome on Wednesday morning in sign of solidarity.

The Archbishop says he believes that "the issue must be approached collectively". He says "the issue of security cannot be left to just one country or one area. There has to be a collective effort. He says he believes that with some proper intelligence networking, intelligence gathering" the violence can be stopped.

He says that "foreign governments should help in the area of intelligence and equipment to gather intelligence and stop this menace..."

listen to the interview...