Nigeria: Boko Haram's actions are un-Islamic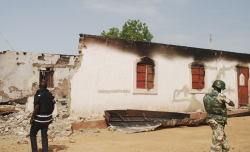 (Vatican Radio) In Rome to receive "The Archive for Disarmament Golden Doves for Peace Award", Nigerian Archbishop Ignatius Kaigama reveals his feelings of loneliness as he pursues peace in his violence-torn nation.

Speaking to Vatican Radio's Linda Bordoni, the Catholic Archbishop of Jos and President of the Nigerian Bishops Conference, says when acts of violence take place in his country "foreign governments are silent". He says "they tell their citizens not to travel to Nigeria, not to go to Jos. But this is the time in which we need them to express visibile solidarity, that human show of love and support". Their warnings, he says "make me feel deeply offended".

In Jos and in the surrounding Plateau State, deadly Boko Haram bombings are threatening to reignite a long-running conflict that has left thousands dead in recent decades.
Analysts say it seems likely that the spate of Boko Haram bomb attacks is intended to fuel inter-religious violence, possibly in an effort to make the country ungovernable.

And observers say that the Islamic fundamentalist Boko Haram group has been so active across northern Nigeria people are not asking if there will be an attack, they are wondering where the bombers will strike next.

The violence is perpetrated against schools, government buildings, churches and recently constuction sites.

Asked whether their is a connection with the recent deadly attacks against Churches in Kenya Archbishop Kaigama says "violence is a virus, if not controlled it continues to spread. it's cancerous". He says he would not be surprised to discover there is a relationship between what is happening in Kenya and what is going on in Nigeria.

listen...




"Our desire is to stop it before it goes on to do damage or create a situation of anarchy and confusion. No doubt some people lose their sense of direction and orientation and they try to inflict maxim pain and damage on human lives. This is unaccepatable, it's inhuman, it's insensitive. So our work as peace-makers is to make sure people maintain an equilibrium, they understand life, they have respect for life created by God, and it give it the honour it deserves".

"Boko Haram and terrorist groups don't have respect for lives and our duty, if possible is to make them see that life is to be respected, it is sacred".

Arbishop Kaigama says the people are gripped with fear and anxiety, growing tension and distrust. He warns they are approaching a dangerous moment.

"We preach and teach people to use all civilized means of resolvitng conflict: dialogue and peaceful negotiations and so on. But when people are attacked again and again, sometimes you cannont control their reactions".

He speaks of the youth who are reacting to the evil, to the violence committed against them. He says they keep preaching and hoping the message of peace will prevail. But, he says, they can't guarantee there will be no further trouble.

The Archbishop says it is important to correct the impression that Christians and Mulslims don't live peacefully together in Nigeria.

He says there have been moments in which tension was heightened for various reasons. But not to the degree of people losing their rationality and killing and destroying things. "This Boko Haram issue is exceptional. It has to be understood correctly. It is not Muslims in Nigeria fighting Christians in Nigeria or vice-versa.

It's an islamic group, a terrorist group, a fundamentalist group that has lost orientation that is inflicting this terrible destruction on innocent citizens".

He says their actions show they have lost their aim but they are redoubling their efforts to commit atrocities and evil. "The churches are the primary target because they identify the Church with western culture. Boko Harma means against western culture and values". And they attack the churches because it provokes publicity and they get the desired impact and effect.

Archbishop Kaigama speaks the Nigerian government's feeble attempts to confront the problem and credits the Sultan of Sokoto who is the head of the Muslims has spoken out and appealed to those who are perpetrating the violence in the name of Islam, that what they are doing is un-Islamic...