British ambassador visits Vatican's IOR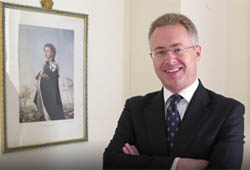 As part of its ongoing effort to combat charges of secrecy and financial scandals, the Holy See's Institute for Works of Religion – often called the Vatican bank – this week invited a group of around 35 ambassadors to make a fact-finding visit. The diplomats were encouraged to ask questions about the Institute and the services it provides, as well as about its response to money laundering investigations and compliance with international standards.
Among those who visited the Institute on Tuesday was Britain's ambassador to the Holy See, Nigel Baker, who talked to Philippa Hitchen about this important process of opening the bank up to very public scrutiny……

Listen:




"For some time ambassadors have been encouraging the IOR (Istituto per le Opere di Religione) to open up their doors to help us understand them better. Very often we hear fairly justified complaints that there's a lot of commentary about the IOR, the so called Vatican bank, that's either ignorant or not well founded or very much based in the past. So we've been saying for some time – and we had a chance as European ambassadors to talk to the board of IOR some months ago – well, we'd like to come and see for ourselves. So they invited us to visit, to hear what they had to say, to see a presentation of what they really are up to now, their great efforts, stimulated especially by pope Benedict XVI, to improve their levels of transparency and compliance, particularly in relation to a range of international norms and the processes they're going through to reach that and fundamentally to demystify their work. So we found it extremely useful, we had the chance to ask questions and I understand they will be doing something also for financial journalists in the near future – which I encourage.

Do you think this will be enough to lay to rest the concerns?

Not immediately no, I think it's a process. It's only really been a year or so since new regulations have come into place improving the governance of IOR, improving its compliance with a range of recommendations of the international financial action task force. It is only since last year that the Council of Europe's expert committee - called Moneyval for short - on money laundering and financing of terrorism has had the chance to come to the Vatican to look at the IOR and other Vatican institutions that manage finances to see how they're doing, to provide recommendations and advice and to rate them, later on this year, against a range of international norms. I think that process will be bumpy because there will be some things where the IOR can't yet say we've reached full international compliance and indeed other Vatican institutions. But there are other areas where they can say we are absolutely compliant and get that validation for international standards. I think it's bold, it's brave to enter into this, because inevitably the criticism comes up, inevitably as you become more transparent, people will remind you of your past and – as with any good bank - there will be moments when a story comes up about transactions or about clients that don't fit in with the process of trying to improve transparency. I think that's something that everybody has to live with, but it doesn't invalidate the process, quite the opposite – with transparency comes showing off a little bit of the dirty washing as well and that's quite a normal part of the process.

It's not just about the past though, just recently the US State Department listed the Vatican as being vulnerable to money laundering?

These are very real concerns and one of the reasons why my government really encourages this process is that even the most respectable, well run bank or financial institution in the world will have some vulnerabilities, there's no such thing as an invulnerable bank or financial institution, as we've had to see recently on Wall Street and elsewhere. So those who wish to abuse the system for money laundering or for financing terrorism, will always be looking for loopholes, so in a sense this isn't a process that has an obvious end though there are staging posts along the way. Its also fair to say that when these concerns are expressed, the same concerns are expressed about British banks, American banks and financial institutions, but this is where the boldness comes in - of course by going down this process you open yourself up to questions. I think one of the objectives of the board, of IOR, is to show that they have modern procedures in place and they are as resistant as any other well run financial institution to being misused. It's for others to judge whether they have reached that goal or not, but I think it's very important that they are trying to go down that route.