Egypt: Voting underway for next President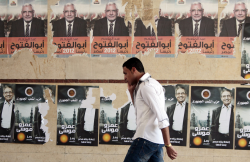 Egyptians living throughout the world are submitting their absentee ballots today less than two weeks before Egypt's in-country elections.

Egyptian expatriates in more than 150 countries began voting Friday in the first round of the country's first ever multi-candidate presidential election, since the fall of former president Hosni Mubarak in February 2011.

Voters will be able to chose from 13 presidential candidates. But the front runners are Amr Moussa, who served as Mubarak's foreign minister for 10 years before becoming head of the Arab League in 2001, and Abdel Moneim Abolfotouh, a moderate Islamist who broke with the Muslim Brotherhood last year.

Friday's voting comes one day after the Arab world's first ever presidential debate between Moussa and Abolfotoh on issues such as their economic platforms, the role of the military, and women's role in politics
The actual election will take place in Egypt from May 23-24. If neither candidate wins a majority vote in this month's elections, a runoff is scheduled to take place in June.