Mother Maria Ines Teresa to be beatified on April 21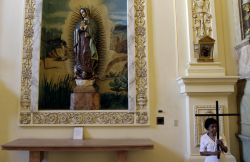 April 19, 2012: On Saturday, April 21, the Basilica of Nuestra Señora de Guadalupe, Mexico City (Mexico), will host the Beatification of Mother Maria Ines Teresa of the Blessed Sacrament Representing the Holy Father will be Cardinal Angelo Amato SDB, prefect of the Congregation for the Causes of Saints. Cardinal Amato in an interview said that the beatification of Mother Maria Ines Teresa of the Blessed Sacrament is another gift that the Holy Father Benedict XVI has given to the Church and the Mexican people, with his short visit to Mexico, last month.

With her maiden name Manuela de Jesus Arias Espinosa, Mother Maria Ines Teresa was born in 1904. In order to realize her dream of consecrated life, she had to leave Mexico and emigrate to the United States of America. Since there was a constant fear of persecution, the sisters in Mexico who were living precariously had refused to accept aspirants to the consecrated life. So, in 1929, Manuelita went to Los Angeles, California, to enter the convent of the Poor Clares as a cloistered nun.
For 16 years Mother Maria Ines lived her religious vocation with the Clarissans of the Cloister. During those years she experienced in her soul a great thirst for souls, and for that reason, after praying and consulting with her superiors, she understood that Our Lord was calling her to found of a new missionary congregation. In response to this call she left her beloved monastery to announce the Gospel around the world, especially to children.
Mother Maria Ines Teresa Arias founded the Congregation of the Clarissan Missionary Sisters of the Most Blessed Sacrament, the Missionaries of Christ's Brothers for the Universal Church and the Van-Claristas (vanguard lay missionaries: children, young adults and married couples who have the desire to live for Christ, sharing the Ines spirituality, and thus give a good witness to Christian life in their local context).
At the moment, there is also a Priest's Group named "Mother Ines", formed by priests of different nations who have welcomed the spirituality of Mother Maria Ines as an inspiration to living their own priesthood.

Her missionary fervour, her constant prayer and heroic exercise of all the virtues, took her around the world. She made as her motto "Oportet Illum Regnare" ("He must reign") and established missions in:

Mexico Japan, Italy, United States, Costa Rica, Sierra Leone, Nigeria, Spain, Indonesia, Ireland,
Mother Maria Ines died a holy death in serenity, simplicity and abandonment into the hands of God on July 22nd, 1981.