THE SINGER'S SINGER - CARMEN McRAE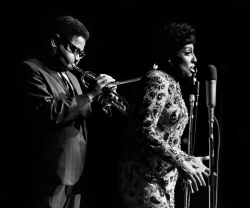 Carmen Mercedes McRae was the subject of Melodies & Memories Thursday February 23rd feature. Also known as "The Singer's Singer", McRae is considered one of the most influential jazz vocalists of the 20th century. She enthralled me from the time I was a child. Seeing her often on televised variety and talk shows, McRae's distinctive vocal style impressed me even then. Over her rich musical career, Carmen McRae produced over 60 albums and performed and recorded in the United States, Europe and Japan.
Born in Harlem to Jamaican immigrant parents, McRae began studying piano when she was eight, and in her late teens and early twenties, played at the famous jazz club, Minton's Playhouse. Her first important job as a pianist was with Benny Carter's big band in 1944. She also worked with Count Basie that year and made her first recording as pianist with the Mercer Ellington Band sometime after. But it was while working in Brooklyn that she came to the attention of Decca's Milt Gabler whose 5 year association yielded 12 LPs.
Among her many recognitions and awards, Carmen McRae won the NAACP Image Award in 1993 and the National Endowment for the Arts' Jazz Masters Award in 1994. Forced to retire in 1991 due to emphysema, she died on November 10, 1994. Among her contemporaries, you would be hard pressed to find one that comes close to the richness of Carmen McRae's vocal timbre, to her adroit handling of a of a song's lyrics, to the clarity of the message she intended to get across, or to her indefatigable dedication to her art.