Peru: Deadly blaze in re-hab centre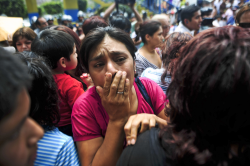 Experts are investigating a fire at a re-habilitation centre in Peru's Capital Lima. The death toll so far stands at 27.

Major safety regulations appear to have been flouted at the Christ is Love Centre for recovering drug addicts, which was not even supposed to be operating. Authorities had twice ordered it to be closed.

Fire fighters said they had to cut through barred doors to reach those trapped by the inferno, and also smash through the wall of an adjoining building.


While patients had to jump from windows to escape the flames and thick smoke. Most of those who died were overcome by smoke inhalation.

Authorities say the Centre lacked proper safety and medical precautions and provisions, was packed and they're seeking its owners.


Experts who are looking at the causes of the blaze, have been told that matresses could have been deliberatly set alight.