Nigeria strikes continue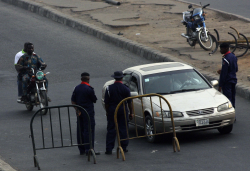 Nigerian President Goodluck Jonathan said on Monday petrol prices would be reduced and labour unions agreed to suspend mass protests to allow further negotiations with the government. Tens of thousands took to the streets for strikes over five successive days last week in protest against the sudden removal of a fuel subsidy on Jan. 1 that more than doubled the pump price of petrol. Jonathan met unions late on Sunday to try and find a compromise to end the strikes, which are due to resume on Monday. He said the talks had "yielded no tangible result" and pledged to continue along the path of removing subsidies.

"Government will continue to pursue full deregulation of the downstream petroleum sector. However, given the hardships being suffered by Nigerians, and after due consideration and consultations ... government has approved the reduction of the pump price of petrol," he said in a pre-recorded speech. Nigeria's main labout unions said they would suspend street protests but strikes that have paralysed Africa's second-largest economy would go ahead pending further talks on Monday.