Out of sight, out of mind...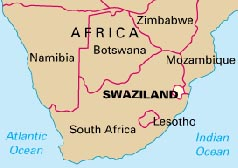 The Catholic Bishops of Southern Africa have raised an alarm concerning the poverty, the misgovernance and the corruption in the tiny landlocked Kingdom of Swaziland.

The Southern African nation is bordered to the North and South by South Africa, and to the East by Mozambique.

It's advertised as an ideal holiday venue with beautiful nature, lots of wildlife and traditional culture.

But the Bishops are voicing their concern at the lack of human rights in Swaziland and are calling on the king and government to make some radical changes.

Linda Bordoni spoke to Durban Archbishop, Wilfrid Fox Napier, who spoke of a recent visit to the Kingdom of Swaziland and about the Bishop's recently released statement which registers their concern.

Cardinal Napier says the country is in the throes of an unprecedented financial and societal crisis. He tells of how four prelates paid a visit to the country (Archbishop Buti Tlhagale, Bishop Joe Sandri, Bishop Barry Wood and himself), their reason was to give solidarity and support, but also to meet from people of the opposition who told stories of deep economical, social and political difficulty.

At the end of the visit the prelates were asked to help by revealing the predicament of the Swazi people to the rest of the world.

The bishops agreed and wrote a statement which enumerates the following points:
Swaziland has:

the highest HIV & AIDS infection rate in the world (26%);
the lowest life expectancy in the world (32 years);
an unemployment rate of 40% and rising;
and extreme poverty with 70% of its population living below the poverty line of less than US$6 a day.
a State of Emergency that has curtailed freedom of expression, association and dissent for the last 37 years.



And in their statement, the bishops went on to call on the government to implement a series of reforms:

· the recognition and implementation the Universal Declaration of Human Rights in Swaziland;
· the revocation by King Mswati III of the royal decree of 12 April 1973 which established a state of emergency;
· that King Mswati III enter into meaningful dialogue with his people in order to facilitate movement towards true democracy his country;
· the establishment of a democratic process for writing a new constitution in which all Swazi's have a part;
· that the current Swazi Constitution be amended to reinstate the full range of human rights.
Cardinal Napier concluded asking for prayers for the people in Swaziland. Very much like Zimbabwe - he said - it is going to take divine intervention to get that change of heart in the king and in his advisors and in those running the security apparatus. It will take a miracle for that change to take place.
listen to the interview...