Accessing JPII events in Rome and online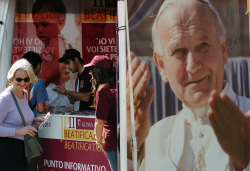 In a press briefing Friday, Holy See Press Office Director Fr Federico Lombardi revealed the final organisational details ahead of this weekend's ceremonies. All access to St Peter's Basilica, Square, Via della Conciliazione and surrounding areas will be restricted as of 13:00 hrs Saturday April, 30. Only authorised personal will be allowed to transit in the delimited zone. The restrictions will remain in place until 05:30 am Sunday May 1st.

The Vigil of Prayer in Circus Maximus begins at 20:00 hrs, local time, but pilgrims will be granted access to the arena starting from 17:30 hrs. The Vigil – divided into two parts – will include a live link up for the praying of the Luminous Mysteries of the Rosary with five Marian Shrines around the world and will conclude with a final benediction from Pope Benedict XVI, who will link up live from the Apostolic Palace.

Following the Vigil, pilgrims are invited to take part in the "White Night of Prayer" organised by the Diocese of Rome. Teams of young people will be on the streets in front of eight Churches that line the route from Circus Maximus to the St Peter's area, to invite faithful to join in a moment of prayer and mediation before the Blessed Sacrament. Priests will also be on hand to hear confessions in each of the Churches which will remain open throughout the night. The Churches are: Sant' Agnese in Agone, Piazza Navona; San Marco al Campidoglio; Santa Anastasia; Santissimo Nome di Gesù all'Argentina; Santa Maria in Vallicella; San Giovanni dei Fiorentini; San Andrea della Valle; and San Bartolomeo on Tiber Island.

The Vigil will be broadcast and streamed live by Vatican Radio and CTV. Just click on the Vatican Player icon on our homepage: www.vaticanradio.org or alternatively www.vatican.va/video .

Those attending the beatification events and own iphones or smartphones can avail of English language news updates by accessing the http address : http://rv.va/5 .