Tuning in to the Triduum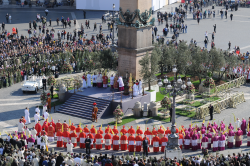 A reminder to all of our on line readers and listeners that you can follow the Triduum and Easter liturgies presided over by Pope Benedict XVI, live from Rome on Web TV with – or without – commentary in English.

All you have to do is click on the 'Vatican Player' box on the top right hand side of our home page. Or alternatively by visiting www.vatican.va/video.

The first live broadcast is scheduled for Holy Thursday, 9.30 am Rome time, with the celebration of Chrism Mass live from St Peter's Basilica.

At 17.30 hrs local time Mass of the Lord's Last Supper will be broadcast live from the Cathedral of St John Lateran.