Thousands still missing our priority, says Archbishop of Tokyo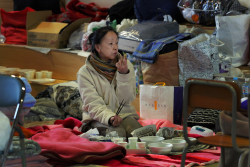 "Our main task at the moment is to locate the thousands still missing", says the Archbishop of Tokyo, Peter Takeo Okada speaking to Vatican Radio, one week on from Japan's worst natural disaster in modern history. Nearly 7,000 people have been confirmed killed in the quake and tsunami. Another 10,700 people are missing with many feared dead.

"The nuclear threat is worrying everyone, spreading fear and panic", he confirms from the capital Saturday as Japan's crippled Fukushima nuclear plant exceeded government-set safety limits for radiation. "However, we are still trying to locate people in the two worst affected diocese Sendai and Saitama" , continues Archbishop Okada, who is also President of the Japanese bishops' conference.

Some 390 thousand people, many elderly and small children, are homeless, living in shelters in near-freezing temperatures in north-eastern coastal areas. Food, water, medicine and heating fuel are in short supply. The Diocese of Sendai has set up an aid centre and shelter in the cathedral area in an attempt to help those left with nothing in the aftermath of the tsunami.

Likewise in Tokyo, where Archbishop Okada says they are opening shelters for people from the area, many of them foreigners. "A lot of people are fleeing the area because they fear the [threat of the ] nuclear plant". The prelate stresses the need for calm and patience, and warns against exaggerated reporting of information that can only further worry an already alarmed population.

The International Atomic Energy Agency (IAEA) says radiation at the damaged Fukushima Daiichi plant had stabilised at "significantly higher" levels than normal, but these were still in a range allowing onsite recovery measures.

At the site on Saturday, engineers attached a power cable to the outside of the facility in a desperate attempt to get water pumps going that would cool down overheated fuel rods and prevent the deadly spread of radiation. Japanese authorities have successfully completed the evacuation of people from a 20 km (32 km) zone around the stricken plant. People within a 30 km area have been advised to stay indoors.

"We must thank people for their prayers and support, I have received letters from many bishops' conferences and for this I am very grateful" concludes the head of the Japanese Church, "before we were an isolated people, now we are standing together, united and there is a great solidarity".