Irish Bishops' issue election document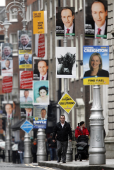 As campaigning in Ireland's general election reaches its final few days, the country's Bishops have issued a document in the run up to the vote. The document called "From Crisis to Hope: Working to Achieve the Common Good" was launched yesterday in anticipation of the general election on Friday and forthcoming elections in Northern Ireland.

The publication prepared by the Irish Bishops' Council for Justice and Peace, highlights the strain the current economic crisis, engulfing the country, is putting people under.

It also underlines the value of human dignity and stresses the importance of the family.

"People are suffering as a result of this (economic) crisis", says Auxiliary Bishop of Dublin, Raymond Field, who is Chairman of the Council for Justice and Peace.

He told Vatican Radio that, "part of it is because of the neglect of the common good. Now what were are proposing in the document is that people think again about the common good and how important it is to have that inserted especially at this time."

Irish voters go to the polls on Friday 25th February. Listen to Lydia O'Kane's interview with Bishop Field here.