Papal envoy on Silver Jubilee of Indian visit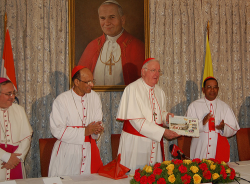 English Cardinal Cormac Murphy-O'Connor has concluded a 10 day tour of India, representing Pope Benedict XVI on a visit recalling Pope John Paul II's historic journey to India in 1986. The Cardinal was asked by the Holy Father to serve as his official representative to celebrate the achievements of that apostolic pilgrimage and to confirm the Church in India in its ongoing work of support to the poor and most marginalised people.

During his tour which concludes on Friday, the Cardinal travelled to New Delhi, meeting with the Indian President and visiting the memorial to Mahatma Gandhi. In Ranchi he took part in a symposium on the Church's work among tribal people, while in Calcutta he met with the Missionaries of Charity and then travelled on to Mumbai where he met with young people and blessed a new statue of Pope John Paul II.

Philippa Hitchen spoke to him on the last leg of his journey to hear his impressions and to find out more about the legacy left by the late pontiff during his visit a quarter of a century ago….

Listen.......




The Church in India is of course a very small minority but it seems to have grown in confidence since the visit of Pope John Paul....the Church has become more enculturated into this extraordinary Indian culture but with a very distinct voice - and a voice that's very much valued..

Cardinal Gracias, myself and the papal nuncio were invited to a meeting with Hindu and Muslim leaders in Mumbai to talk about the limits of dialogue but also the usefullness of dialogue and working together on ethical values, the family, the role of religion in public life..

There are a number of people, especially among the tribal peoples, who wish to become Catholic - this is a very sensitive issue and the bishops are handling it very sensitively....Cardinal Gracias is very concerned that those who wish to become Catholics have a prolonged catechesis, one to three years.....so there is no question of the Catholic Church in any way proselytising...

It was very, very moving when we went to (Mother Teresa's) house in Calcutta to see how they are caring for these abandoned children....there is no doubt that religious life here has flourished and is flourishing - one can only rejoice at that!