Papal appeal for Indonesia and Benin in wake of devastating natural disasters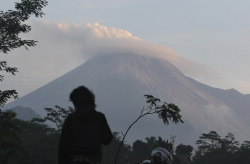 Pope Benedict XVI has called on the international community to quickly provide relief following a disastrous earthquake and tsunami in Indonesia and severe floods in Benin. In an appeal launched at the end of his General audience Wednesday the Holy Father assured the people of Asia and Africa that he was praying for them and urged global donors to provide the necessary relief aid to "alleviate the suffering of those affected by such devastation".

One of Indonesia's most active volcanoes Mount Merapi erupted overnight Tuesday on Java island spewing out clouds of ash and jets of searing gas. The eruption came just one day after a tsunami triggered by an earthquake pounded remote islands in western Indonesia, leaving hundreds dead.

Meanwhile in the West African nation of Benin, weeks of flooding have killed around 60 people and forced 120,000 to flee their homes. Seven people have died out of a total 800 cases of cholera, while malaria, which thrives on water-logged conditions, has also claimed lives. Around 25,000 hectares of land accounting for 40 percent of production of rice, maize, millet and other staples has also been destroyed.