Final stage in Chile mine rescue set for Wednesday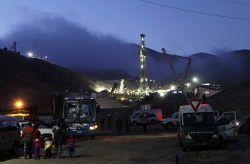 Intricate and painstaking final preparations are being put in place, to rescue 33 miners, who've been trapped 700 meters below Chile's Atacama Desert since August 5th. Mining Minister Laurance Golborne has cautioned against self congratulatory celebrations, starkly stating that no one has yet been rescued.
In a press conference close to the lip of the San Jose Mine, he has confirmed that the top 96 meters of the shaft will be re-enforced by steel tubing. The rest of the rock below it, will stay as it is. The rescues are likely to start Wednesday, when the special capsule will be lowered 700 meters down to where the shaft has reached the miners. This type of operation has never been done before.
Before the winching up can be done, a doctor will descend to examine each of the 33 men to decide in what order they'll be winched up, one by one.
Chile's President Sebastian Pinera has said a disaster is ending as a true blessing. Everyone involved in the rescue and countless millions around the world, who have watched this drama unfold, hope that his prediction will come to pass.