Putting faith in the public square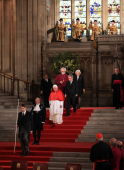 Benedictine Abbot Timothy Wright looks back to one of a number of highlights during Pope Benedict's recent visit to the United Kingdom. Father Timothy himself was just back from London after having participated in a Papal event, when he spoke to Linda Bordoni of his own considerations and reactions to the Pope's meeting – and discourse - in Westminster Hall with representatives of British Society, including the Diplomatic Corps, politicians, academics and business leaders....

"It was such a good thing that he was able to put into place in that "public square" - as they call it - the importance of allowing the voice of faith. Perhaps only he, of all the religious leaders of the world, could do it as effectively, with quiet conviction, with a sense of both sincerity, and also complete confidence that what he was saying was something that would be very difficult to deny..."

"...the Pope himself referred to the economic situation, the whole question of greed as perceived by many ordinary people in Britain when they look at the bonuses and indeed the salaries of so many..."

"...In all these areas, working out the role of faith in the public square sets an agenda which will take a long time to develop the clarity, but more important to establish the right framework in which the dialogue can take place..."

listen...