Pakistani minister refutes discrimination in aid distribution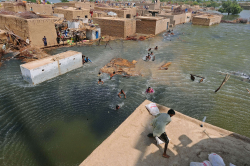 Pope Benedict XVI held a private meeting with Pakistan's Federal Minister for Minorities Affairs, Shahbaz Bhatti, on Monday for a debriefing on relief efforts in the country devastated by recent severe floods.

Pakistan's worst natural disaster in modern history, the floods have forced more than six million people from their homes. Aid agencies have warned that millions more are still at risk of death if emergency food and shelter are not provided. Some media have reported discrimination in the distribution of government aid to non Muslims, a charge the Minister flatly denies:

"The news about discrimination in relief distribution [to flood victims] is baseless" he told Vatican Radio. The Minister said he had personally toured the camps and areas where the Christian communities and other minorities were affected in the company of Catholic bishops and other Church leaders.

"I personally visited camp to camp" he said "nobody complained to me or the other bishops" The Minister went on to add that the government policies towards minorities "are based on equality". "We are struggling to promote equality among religions and these flood waters know no religious boundaries".

The Minister, who is a Catholic, described his meeting with Pope Benedict as "inspiring and spiritual". He said the Pope showed great concern for the victims and relief efforts. For his part the Minister expressed thanks on behalf of Pakistan's government for the Holy Father's repeated appeals for solidarity for Pakistan.